If you're looking to delete your Minecraft account in 2022, you've come to the right place. Minecraft is one of the most popular and successful video games of all time, and many of us have memories playing this game with friends and family. However, there may be times when you want to stop playing, or if you're a parent, you may want to delete an account for your child. Deletion is a straightforward process, and we'll provide you with the steps necessary to ensure your account is deleted properly. Additionally, we'll discuss techniques to keep your children safe while playing Minecraft, and the steps you can take to ensure their online safety. So, if you're looking to delete your Minecraft account and need some guidance, this blog post will provide you with the information you need.
Old Minecraft accounts (where you log into Minecraft with a username) do not have a deactivation feature. To deactivate an old Minecraft account, you must first migrate it to a Mojang account. If you want to fully delete your account, contact Minecraft support and provide your transaction ID.
*EASY FIX* Minecraft Bedrock PS4: HOW TO UNLINK YOUR MS ACCOUNT! UPDATED!! READ DESCRIPTION!!!!
If You Have a Microsoft Account
Now that Microsoft accounts are more widespread among Minecraft players, here's how to permanently delete one if you want to stop using it.
Sign in to Minecraft using your Microsoft account
Click on "
Change account settings on Microsoft.com
" (also found in the Profile section)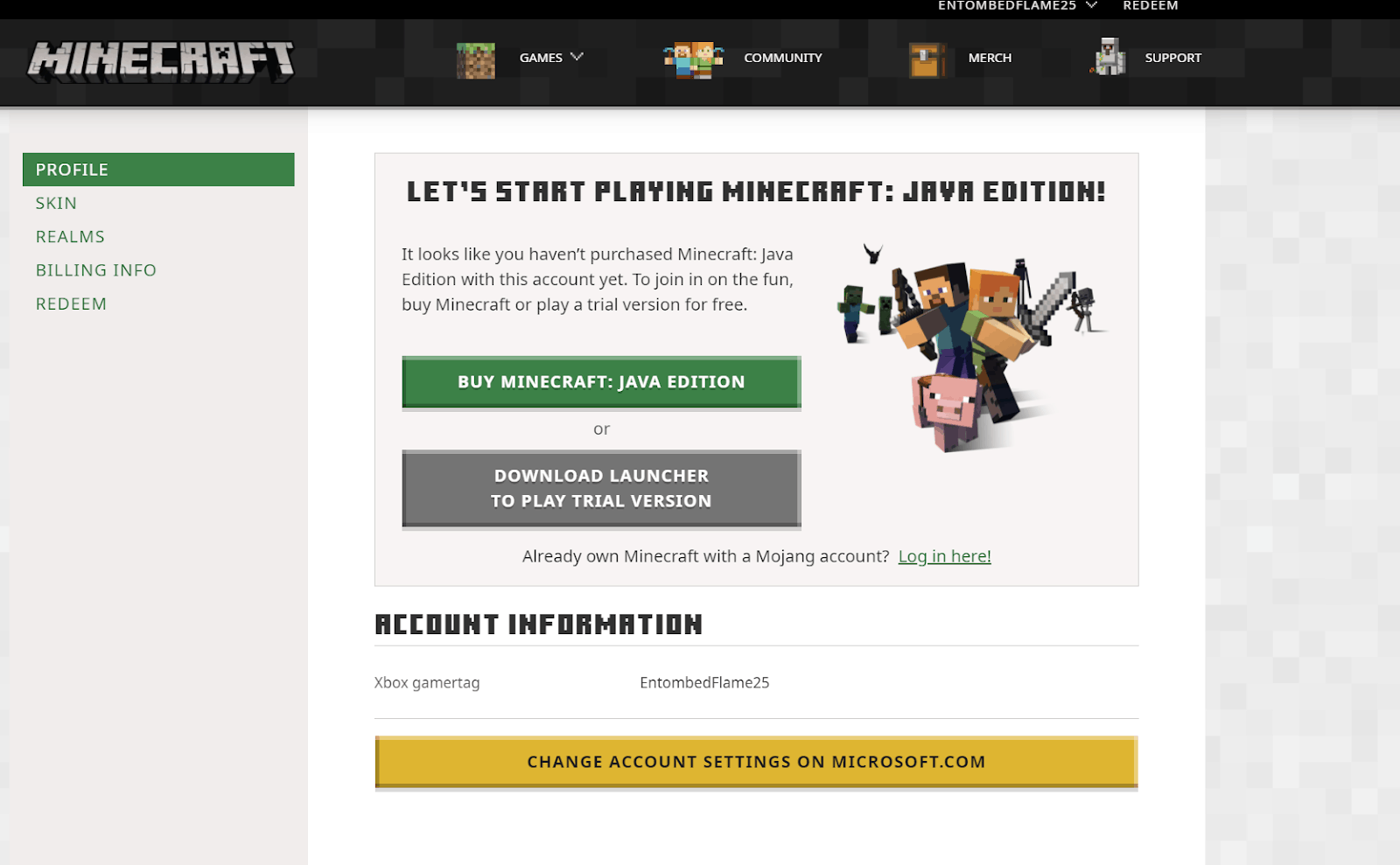 Once inside our Microsoft account, click on "
Your Info
" at the top of the screen

Scroll all the way to the bottom, and click on "
How to close your account
"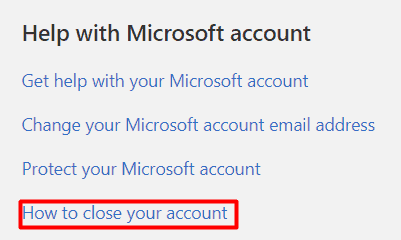 Take the next steps as instructed on the next page. If you've already done the steps, select how long you want to wait before the account is deleted (30 or 60 days) and click on "
Next
"

Tick all the boxes in the next step, select a reason why you want to delete your account, and then click "
Mark account for closure
".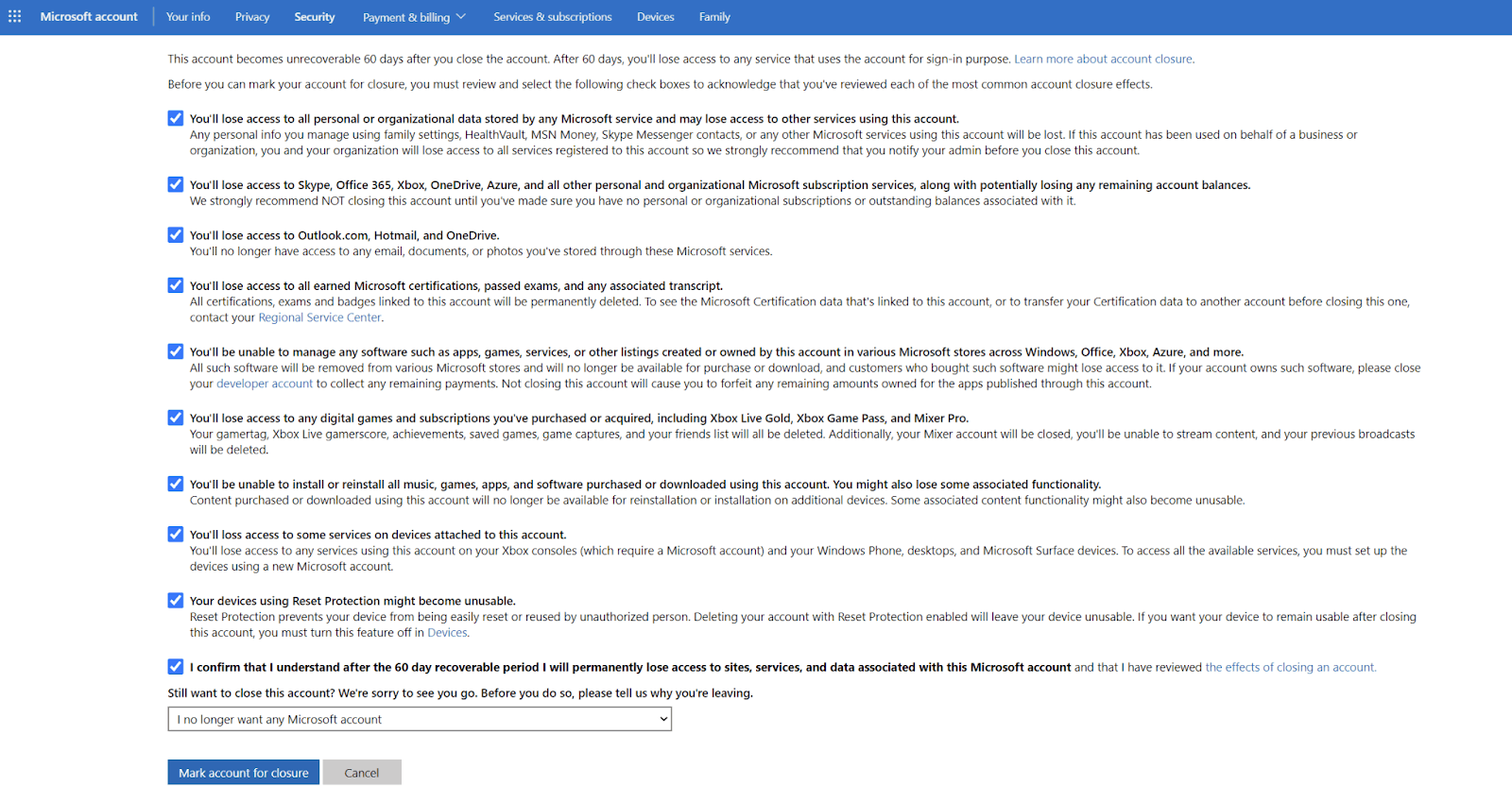 After that, depending on what you chose, it will take 30 or 60 days to close your account. You will still be able to restore your account during this time if you so choose, but once the 60 or 30 days have passed, the changes will be permanent.
How to Delete Your Minecraft Account Step by Step
It's likely that you've had Minecraft for a while if you still log in with a Mojang account to play. Nevertheless, it is simple to delete your Mojang account if you want to stop playing Minecraft forever.
Go to
Mojang.com
and log in to your Mojang account using your account's credentials
Click on "
My Account
" in the top-right corner, and click on "
Settings
"
Scroll to the bottom of your screen where you should see "Want to delete your account? Learn how". Click on
Learn how
.
Next, you'll see a new screen that will allow you to request account deletion. To do it, click on "
Request account deletion
" at the bottom of the page.
You should then receive an email from Mojang with further instructions to complete the deletion.
Click on the activation link that's been sent through the email
.
Enter your requested information to complete the account deletion, and click on
Delete my account
.
After that, your account should be deleted fully. After this, you won't be able to log back in because the process is irreversible.
You must sign in to the account you wish to delete in order to delete a Microsoft account on a Minecraft switch. Go to your profile and choose "delete account" after logging in. Then, you will be prompted to confirm your desire to delete the account. Select "delete" and the account will be deleted.
You might be unable to connect to a Minecraft world for a few reasons. One possibility is that there are already too many players for the world to accommodate. Another possibility is that your internet connection is having issues. Additionally, the server you're attempting to connect to might be unavailable.
You can either quit the game or sign out of your account in order to log out of Minecraft. Press the Esc key on your keyboard and choose "Quit Game" to end the game. Open the Minecraft launcher, select "Profile" in the top-right corner, and then select "Sign Out" to log out of your account.
Open the Minecraft PE app in order to delete your Microsoft account on the game. Open the app, then select "Log Out" from the Settings menu. " This will log you out of your account. Select "Delete Account" after that, and then adhere to the on-screen instructions to do so.
FAQ
How do I delete all my Minecraft account?
More videos on YouTube
Go to Mojang. com and log in with your account's credentials to Mojang.
In the top-right corner, click "My Account," then select "Settings."
Want to delete your account? can be found at the bottom of your screen if you scroll down far enough.
How do I cancel my Microsoft Minecraft account?
Select Settings > Accounts > Email & accounts after clicking the Start button. Select the account you want to delete under Accounts used by other apps, and then click Remove. Select Yes to confirm.
Is Mojang deleting Mojang accounts?
they don't delete accounts. Attempt contacting them via email or perusing the support forums: help minecraft. net/hc/en-us/secti….
Will Minecraft delete your account if you don't migrate?
However, you'll have to move your account when the window for voluntary migration closes, or you run the risk of losing access to the game. If you weren't a subscriber to Minecraft: Java Edition Realms as of June 28, 2022, your Realms subscription will have been canceled.